(This is a continuation of my last two posts about our process of bringing home the son we were adopting and having to say good-bye. )
Tuesday
We got up and took our time getting ready for the day.
A photographer friend of mine that lives not far from where we were met us at the hotel to take our first family pictures. We were tired, but you can tell we were so happy. Here are just a few.
We actually had to check out of our room, but the hotel was really nice and let us use their lobby.
We finished up there and had a couple hours before Samuel's follow up doctor's appointment, so we decided to get some lunch. The waitress asked how old he was and I told her 4 days. She looked at me and said, "Shew girl you look good!" I told her we were in the process of adoption, but she didn't hear me. She went on and on about how he looked like my husband and how she hopes he gets Ethan's big blue eyes. We just smiled and placed our order. I literally could not stop smiling.
After lunch, we drove back to the hospital and met A (Samuel's birth mother there). We got right in to see the pediatrician and Samuel's bilirueben levels looked great. He had some mild baby acne and the Dr. ordered some cream for it. The doctor asked lots of questions about his delivery and A answered them. Then he asked questions about how he did while in the hospital and about the night before, which I answered. Then he asked us if we were friends. I'm sure he was wondering what the situation was with us. We told him about the adoption plan and he said that one of the nurses had mentioned that. He asked if we had any biological children and I briefly told him our story. He commended A and told her what a great thing it was she was doing for us. Especially after having a c-section.
We had to go to the on-site pharmacy for the cream and that took about 45 minutes. Then, we were on our way home. The almost 3.5 hour drive went great. We both made some calls to let people know we were finally coming home and I talked with our pastor about Samuel's dedication at church. There was already a baby dedication planned for the next Sunday, but our Pastor said if we wanted to wait and make his a special day just for him we could. He also asked us to tell our story and share our testimony that day. Many of our church family know our story, but we attend a very large church, so many still do not.
As we got back into town, we had to stop at my Mom's house and my Grandmother came over.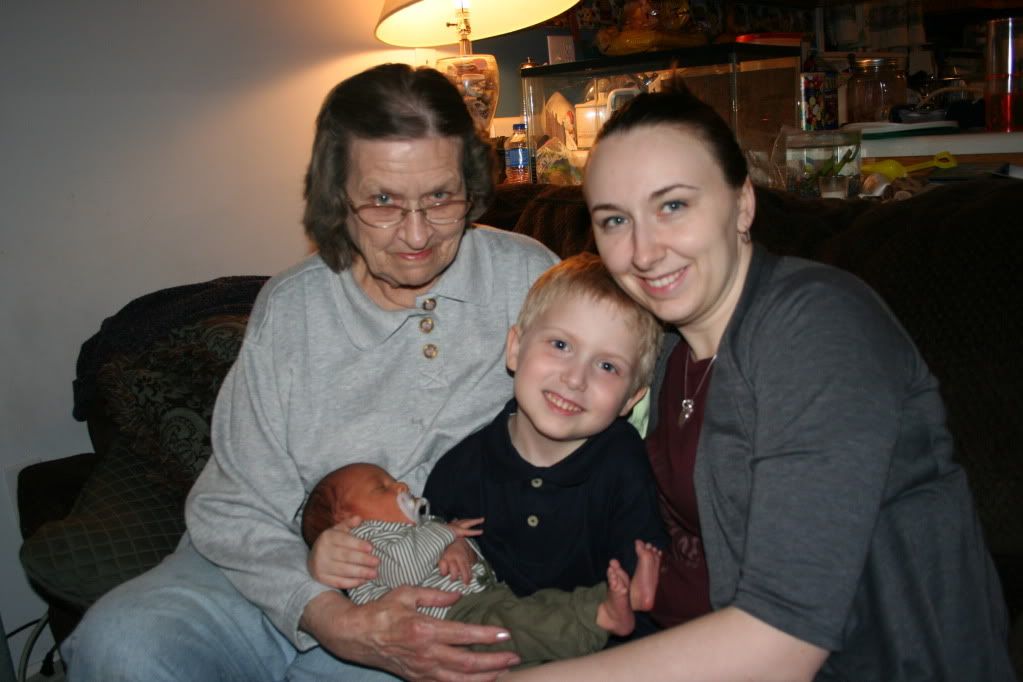 His socks are off because my Mom and Grandma always have to see baby feet. I mean, who doesn't love baby feet?
Mom had cooked dinner for us so we stayed a while, then went home to get settled in as a family of four! The night went well and the next morning we were refreshed and ready to really get into a routine.
Wednesday
There were many things that were so exciting about having him home. We had decided to cloth diaper, so we started that and used the room in our house that has been a nursery two times before. We used his new changing table and just took in every little look he gave us. Then, late in the morning, my cell phone rang. I was changing Samuel's diaper and he peed in the middle of the change, and he didn't like having to change his clothes again, so I had my hands full. Ben told me it was A and answered it. She must have asked for me, so Ben and I traded places and I took the phone.
The first thing she said was, "Mattie, I don't know how to tell you this..." My heart immediately hit my stomach and I knew what she was going to say.
"I can't do this. I tried, I really did, but I just can't do it."
I started crying and didn't know what to say. I won't share our whole conversation. But the short version is, she had bonded with him even when she was trying not to. He looked so much like her first born, it was too painful to not parent him. I had told her from the beginning we were going to try to make this whole process as easy as we could for her. I asked her if she even had a carseat to take him home. She said she was borrowing one. I told her we had to make some arrangements and we would call her later.
I bawled in my bedroom with the door shut until my husband came in. I straightened myself up a little. I didn't have to tell him what was going on, but after him, came Ethan. He climbed up on the bed and asked what was wrong. I told him A called. I told him she really wants to be Samuel's mommy now and we have to take him back to her.
"NO!!
" He yelled and buried his face in his hands.
"That will make everything broken again!"
He laid his head on my shoulder and cried. He told me to call her back and just tell her no. Tell her that I am his mommy and he is his brother. I was holding Samuel and Ethan asked if he could hold him again, so I let him. Ethan said,
"Mommy, it feels like he is passing away."
Ben stayed with Ethan and Samuel and I began to pack his things. All the clothes we had bought for him (except what he had already worn), a few packs of diapers, burp clothes and bibs and receiving blankets. I packed the little socks and paci's and bottles. The little Bible that we had for Samuel. The one just like Ethan's little Bible. The one I wrote 1 Samuel 1:27 in the front of. "For this child I prayed and God granted me what I asked of him."
Ben called our attorney who told us we had to wait for the custody order to be vacated by the judge, because until that happens, we were legally responsible for Samuel. I asked Ben to call Ashley and tell her. We drove to my Mom's to leave Ethan because it would have been too hard for him to say good-bye like we were going to have to. A little while later we heard back from the attorney and the judge was not going to be able to vacate the order until the next day. I texted A and told her and she said she figured we might need another night and that was ok with her if we just waited until the next day. We went home and sat together as a family. All of us took our turns crying. We also took turns feeding, changing, dressing and holding sweet Samuel.
I didn't sleep much that night, I could hardly take my eyes off of him.
Thursday
About 10:00am we got the call that it was over. Samuel was no longer ours. We took Ethan to Mom's and she gave us a bag full of things she had purchased for him for us to give to A. Ethan kissed Samuel and my Mom prayed over him and us. We texted A and her friend was going to drive her half way to meet us.
We had to stop before we got there to feed and change Samuel. We were to our meeting place first and I snapped just a few more pics of this sweet face.
He made some really sweet eye contact and I talked to him and prayed over him.
When they pulled up my knees went weak, but I knew what I had to do. Ben got the bags and bags of baby stuff and I carried Samuel to her and told her where his medicine and formula were. I told her about the stuff in the bags and I held it together well for a few minutes.
Then I kissed his little face and placed him in his birth mother's arms and the tears started. I hugged her quickly and hugged her friend and told her to take care of them. I peeked in the back seat of the car and said something to Samuel's biological brother and turned my back and quickly walked to our van. Ben was right beside me. As soon as we shut the doors, I began weeping uncontrollably facing away from them. I just couldn't stand to watch them put him into that seat and drive away, so we left quickly. It's been a long time since I cried like that, but I recognized what kind of cry it was.
***
It has been almost two weeks since we left that parking lot. I have been emailing A and they are now back in her home state. Samuel is doing well. She kept the first name we gave him and appreciates all the stuff we sent. We have gotten the bill from the attorney and decided that one of us should have went to law school. We will continue to try and keep in touch with Samuel and his family, A said she knows we have bonded and would like for him to meet us someday.