(This is a continuation of my last post about Samuel's birth. I will continue writing it as if he was ours to keep.)
Saturday
After not sleeping at all, I was still very alert and thankful to have my eyes on such a sweet little man. His spit up continued and we asked about switching formula. The nurse finally saw him regurgitate almost a whole feeding and talked with the pediatrician that switched him to soy. He did much better with that. They said his billiruben was normal, but they wanted to check it again later.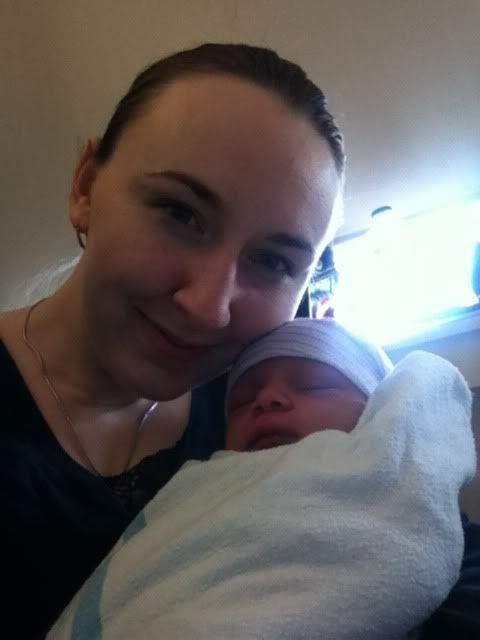 A (Samuel's birth mother) was very sore from her c-section, but was able to get up and move around a little. They were able to unhook her from some of the wires and lines and she held Samuel. I even asked if she would like to feed him and she said yes. It was so bittersweet watching her do this. I knew that releasing him for adoption would be hard and I thought getting these few moments nurturing him would either be hard, or help the pain, but I didn't know which. She is a good mom, so I knew she would regret it if she didn't take this time. With her permission, I took pictures of them together because I knew they both would want them someday (I will refrain from posting those here out of respect for A and her privacy).
At one point in the day, I was holding him and rocking in the glider. I was just staring at him. I must have been smiling. I thought A was asleep, but then she spoke to me.
"I know I'm doing the right thing. I know I am because you look so happy."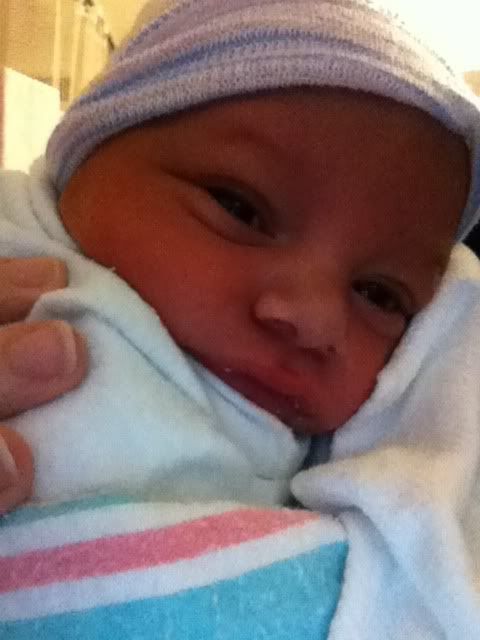 Later that day, A's babysitter of her two other children came by and brought the kids. She had came on Friday night as well, but without the kids. When the nurse asked if the adoptive parents would be staying the night, the babysitter looked shocked and texted A later and asked her what that meant. She didn't know anything about the adoption. Looking back, that was probably a bad sign. I went for a walk with Ben so her other kids and her could have some time alone with Samuel.
Ben left to drive the 3 hours home and get some sleep with plans on coming back the next day. He called and told me he showed Ethan some pictures of Samuel and Ethan kept saying he was so jealous because we got to see him "really" and hold him. A asked us Ethan was excited and I asked her if it was ok if Ben brought Ethan back with him the next day. She said that was fine. The next time the nurses came in the room, I asked if we could bring our son. I knew there was a sign before you entered L&D that said no children were allowed in that area unless they were siblings of the newborn. The nurse said she would have to ask the head nurse. Another nurse came back in the room later and asked me to leave for a few minutes. When they allowed me back in the room, A said that they were asking her if it was ok. A told me she said that Ethan was Samuel's brother and it was ok with her for him to come. She told them how excited he was.
The night nurse (who was great) suggested she take Samuel for a few hours (even though there was really not a nursery in the hospital, she said I needed to rest since I hadn't slept the night before due to his gagging). She took him for three hours through the night and I slept in the chair next to A's hospital bed. This was also daylight savings time, so we lost an hour in the night as well.
Sunday
They checked Samuel's biliruben again and it was too high, so they wanted to put him in the bili-bed. He hated that thing at first and kept spitting up every time I would lay him down. But after some adjustments and our wonderful night nurse showing us a trick to make him feel swaddled while in it, he slept much better.
Ben got to the hospital with Ethan late in the afternoon and Ethan got to spend a little time with Samuel and I.
He finally got the wear the "Big Brother" shirt that had been in his closet with tags for over a year.
He just kept saying how precious Samuel's eyes were. His little hands. His nose. Everything was just "precious".
I left the hospital for just long enough to run to the hospital and take a quick shower then back to spend another night in the hospital. A notary came to the hospital and witnessed A signing the temporary consent paperwork. We could now legally leave the hospital with him! That is, as soon as the hospital would allow it.
Monday
They checked Samuel's biliruben again and after one night it had dropped low enough they would allow him to be released from the hospital. With one exception. We had to bring him back to the same hospital to see the same pediatrician the next day just to check on him. And the birth mother had to come too. We started gathering our things and brought in the car seat. At this point, A started to get a little emotional. I gave her a few minutes alone with him and she placed him in the car seat.
Since the hospital would not allow us to leave with the Samuel (even though we had every legal right to) A had to walk out with us. And since it was a military hospital, we had to do a few extra steps before she could leave. One of these steps was the filing of the birth certificate. A insisted on placing our last name on the birth certificate. He had our last name. The lady in the office we were working on that paperwork was a notary and A agreed to sign the final adoption consent and court appearance waiver while we were there. (It had been over 72 hours required by our state). She gave him our last name and she signed the adoption consent while holding Samuel. She told me again that she was sure she was doing the right thing.
We finished there and had to stop and get his Zan.tac filled at the hospital pharmacy (by this point they had determined the spit up was acid reflux). Ben pulled the van around and A's friend brought her car up to the door. We put the car set in the van and I let A see him again. We hugged and both cried, then agreed we would see each other there in less than 24 hours for his appt. I told her to call or text me for anything if she needed it. And like that, we were driving away from the hospital with a newborn. In shock and smiling through the tears this was actually happening.
We had to get a hotel in the area so we could be around for the appointment the next day. Ben went and some dinner for us and we settled in with our little guy.
I can't describe the blessed feeling of having him in our arms and wishing we could have been his forever parents.
I'll write more about our time together later. It's taken me all day to write this one. Ethan has had a fever for three days now and he is asking to cuddle. The Dr. said it is just sinus/allergy stuff and that the fever could hang on for a few more days. Praying it leaves quickly though, he is rarely sick, so when he is I worry more than I probably should.