Needing some writing inspiration tonight...enter a new (to me) blog hop!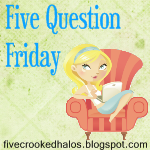 1. Where do you escape to when you've had enough?
Usually, when I've had one of those days where I need to escape, the best I can do is find a quite place somewhere and hop on face.book or pinterest for a few minutes. I really don't physically wish to "escape" much. I'm very blessed to be with my little guy all but 2 days a week and those two days I am doing something I love to do.
2. What shows are you watching this fall?
We don't have cable or satellite or even Net.flix currently, so this one is kind of not applicable for me. But I guess I could just share what movies Ethan is loving now. We watch Lion Kind and Aristocats probably at least once a week. I love that he loves old(ish) cartoon movies!
3.
What was the longest roadtrip you've ever taken and where did you go?
Ben and I (and Ethan!) in Florida, 2007.
When I was in college, I spent two spring breaks in Dallas/Fort Worth Texas. That was about a 15 hour drive from South Eastern Kentucky. But, they were SO much fun! Also, I went to Destin, Florida when I was 8 months pregnant with Ethan to my brother's wedding...um...I'm not sure how long that road trip was supposed to take, but I'm guessing it took us A LOT longer since I had to potty every hour! We also drove from Kentucky to Oklahoma City in 2009 when my niece was born...I was about 16 weeks pregnant with Shyla then. Again...that trip probably too way longer than it was supposed to!
Ben, Ethan, and I (and Shyla!) at the Survivor Tree.
4.
Do you plan on taking your kids to Disney World?
Maybe someday. If we can do it and pay cash, I'm all for it. We would much rather give our kids experiences than things...so who knows...our kids may get one awesome Christmas "gift" someday!
5.
What is something people would surprised to know about you?
Some people might be surprised to know that I have a tattoo and I would LOVE to get another someday. The one I have now I got in college and it is a tiny little ladybug. The only thing really holding me back from getting another it that sometimes it seems like it would be a waste of money when I'm saving for an adoption!